Hayden Eady...KEEPING TRUCKING POSITIVE
Posted on Monday, November 3, 2014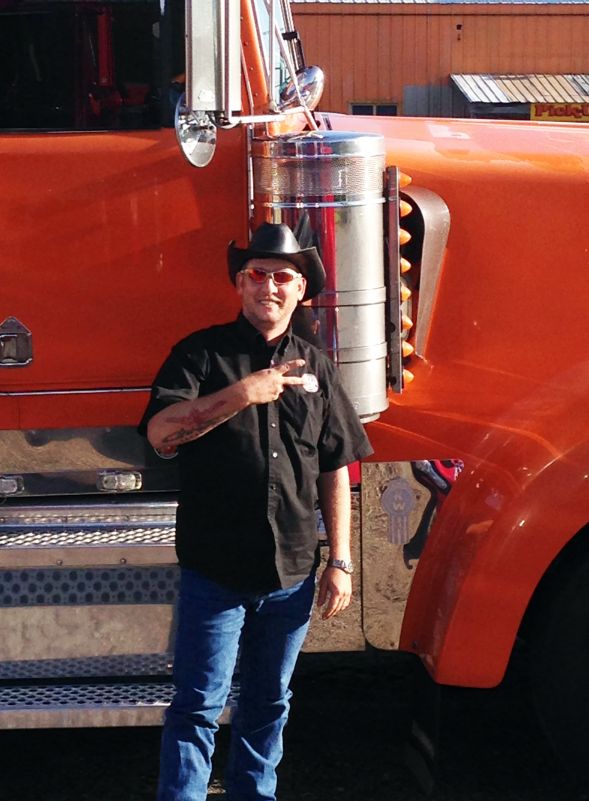 Being a second generation truck driver comes with its pros and cons. First off, you usually have huge shoes to fill. In Hayden Eady's case, that is definitely the situation. He provides us with a little insight, "My dad has been driving since the mid 60's... and he is still running every day at 66 years old!" There is pride in Hayden's voice as he describes his father's dedication as a professional truck driver and mostly for setting the bar on how to be a respectable father and husband. "I was raised by both, my mom and dad. Forty six years later, they're still together and going strong to this day."
  Second, not only do you want to live up to your family name, but you want to be successful in doing so. The nice thing about following in his father's footsteps is the fact that Hayden has been around trucks all of his life. Now that he is old enough to make trucking his career, just like his father, he can provide for his family and travel the country. All while keeping our trucking industry on a positive note, simply by being the exact role model his dad is displaying today.
  Hayden was born in Lexington, Kentucky on April 1st, 1976. He has one older brother and two younger sisters. At the age of 13, the family relocated to his father's old home place in Alabama. It was a small cattle farm where Hayden and his brother spent the majority of their free time working in their dad's shop. His mother stayed home and tended to the four children, while their father traveled the roads in a semi. Any time there was a truck in the shop, Hayden was right there with it. Either cleaning or helping with repairs. Starting at a young age, for six solid years Hayden absorbed as much as he could and went on to land his first job as a mechanic at fourteen.
  The car shop was out in the country, owned by a close cousin. Hayden continued to work there for a couple of years, putting away money to purchase his first vehicle. "After I got my license at sixteen, I saved up enough to purchase a 1968 blue and white Chevy pickup." Immediately he returned to his father's shop. He put in his time and got his CDL at eighteen. When he turned twenty-one, he did a lease purchase with a friend. Flashing back to his childhood again, he shares another special memory, "I still remember my first road trip with my dad. I was six years old and we took a load of cows to Iowa..." When he took his first trip alone, he drove an International Cabover up to North Carolina, hauling general freight. It was obvious from day one, this was going to be Hayden's profession. Now he was living proof that hard work does pay off. The truck he bought to jump start his trucking career was a 1990 Peterbilt Cabover, white with red stripes.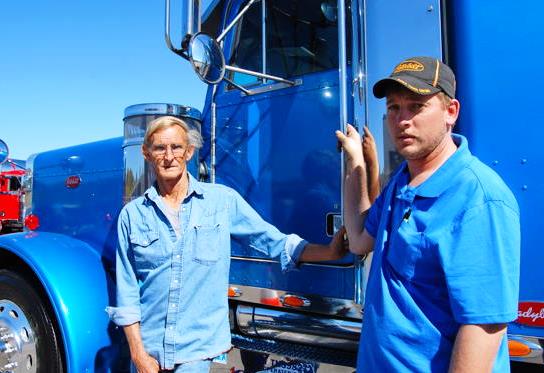 For the next few years, Hayden carried general freight to the East Coast three days at a time. Twice a week he made his way up to Washington, D.C. and Baltimore, Maryland. Unfortunately, his trucking company that he was pulling for went out of business. The timing of this mishap didn't damper Hayden's mood. He was itching for more pay and this helped nudge him in the right direction. His plan of action was to fall back to familiar territory... his dad. He decided to join his dad at the trucking company that he had been leased on at since 1990. "He has had the same agent for that long!" Being that it was a good enough place to keep his father happy for so many years, he was convinced to give them a shot too. He ran the south east region for the next three years.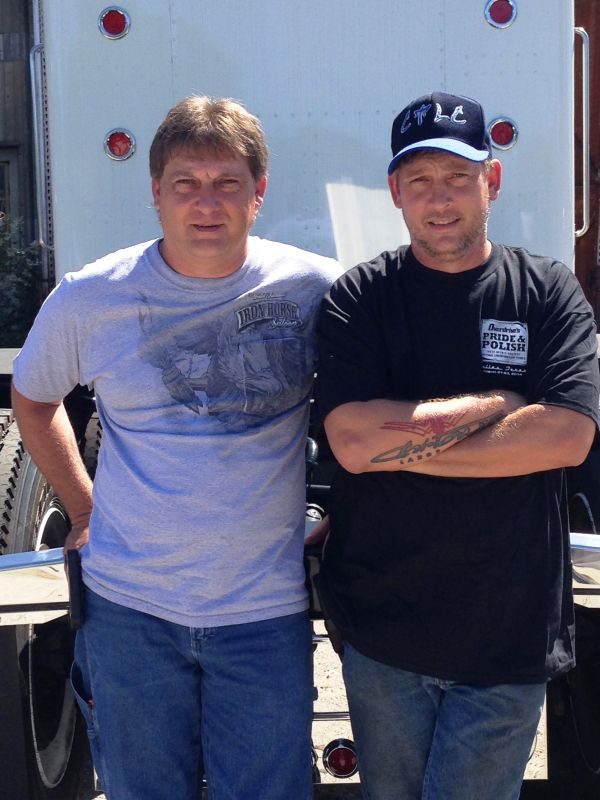 A turn of events took place and Hayden opted to sell his truck. He took a job dispatching for a friend that had fifteen trucks, located in Decatur, Alabama. For six years, Hayden stayed put. As with most office jobs, you become comfortable with speaking on the phone and every day strangers evolve into regular, friendly conversations. It was in 2004 when Hayden finally came face to face with the voice that held his attention for six months. Onna was a clerk at a company that Hayden's drivers hauled for. He laughs as he paints the picture for me, "I finally talked her into meeting me for a 'business supper' and after that, we never spent another day apart." The two hit it off and just like Hayden's dream of being a truck driver, he knew right away that this was exactly what he wanted. Two months later Onna and Hayden wed on his birthday, April 1st. They didn't go for an elaborate wedding. Instead the two headed down to the courthouse with Onna's best friend and her father. For their honeymoon, the couple left for Georgetown, Kentucky and then I hear Hayden's laugh again, "...we ended up at the dirt track watching the races."
  After the two tied the knot, in 2005 Hayden left his dispatching position and opened his own shop at his father's place. He offered maintenance work and custom detailing for drivers and a number of company accounts. By 2011, he was back behind the wheel. He went to work, driving over the road for a company out of Michigan that had a warehouse in Decatur. His lifetime miles have reached well over the one million mile mark and is still adding to that number.
  It was the winter of 2012 when Hayden was introduced to Chi-Town Large Cars founder and president, Halfkut. The two guys put in the time and effort to build a strong friendship, based on the values represented through the morals of Chi-Town Large Cars. To be a member of the non-profit incorporated truck club, each person must acknowledge and fully commit to their motto: To treat one another with love, respect and loyalty. This isn't just an ordinary club. Anyone involved with this organization is welcomed in as family and remains family. Together they use their resources across the world (in 3 different countries) to bring awareness to the needs that our people face on a daily basis. One of Chi-Town Large Cars main charities focuses on childhood cancer. Among a number of benefits held to raise money toward the cause, many families have been assisted and had a positive impact on their lives. Their goal is in agreement by each member; to bring back the positive image of trucking by helping our fellow brothers and sisters, no matter the need.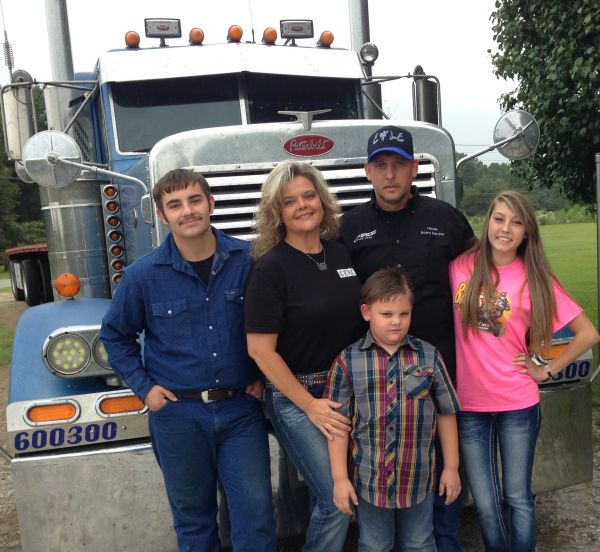 Hayden became a member in April of 2013. His proudest moment as a club member came that August when he was asked to be on the Board of Directors. He and his wife, Onna are involved with most of the trucking events. As many as their busy schedules will allow. Along with the other members of the Board of Directors, Hayden helps in major decisions concerning the club's actions, appointing new members, and any fundraisers that Chi-Town Large Cars participates in, by working with the club's National President, National V.P., and each Chapter's President and V.P. Onna allowed me some inside details on what it was like first-hand, "Before Chi-Town, I thought Hayden had an unhealthy obsession with trucks. He was always wanting to be around them! Then once I started going with him and meeting the people and hearing their stories, putting the faces with the voice or story... I began to understand. CTLC is an awesome group of people. They practice what they preach, day in and day out."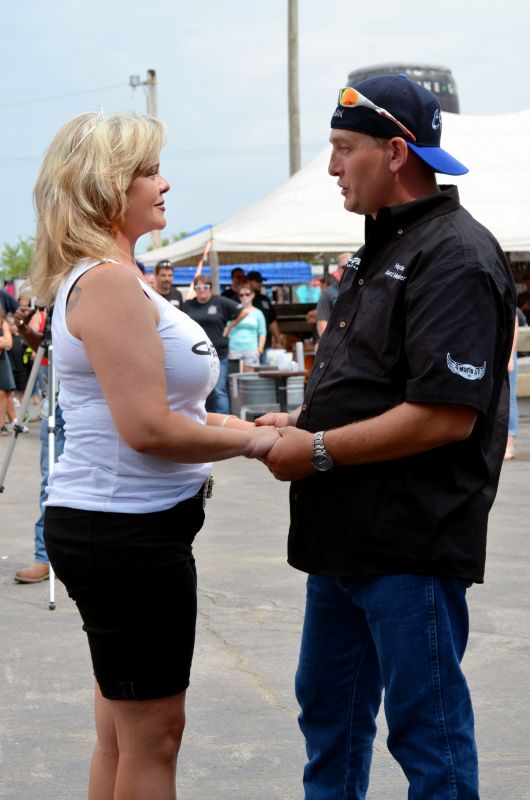 Onna continues to explain how her husband takes pride and exudes passion in his craft as a trucker. "Chi-Town Large Cars has done a lot in this industry. It's amazing having him be a part of something so great. Nothing makes me more proud than to be his wife."
  Today Hayden still spends his working hours on the road, trucking. Doing what he was born to do. Onna never left the company where she first met Hayden over the phone, ten years ago. Hayden's oldest daughter, Brianna will be 17 in November and their son, Cole just turned 16. The youngest of the bunch is, Matt or better known as, 'Fat Cat' and he's 7. Hayden has set his sights on two goals. One is to be an owner operator soon. The other, is to help keep Chi-Town Large Cars growing. This past year in August, CTLC celebrated their 10 year reunion. At the truck show in Chicago (the birth place of CTLC), Hayden and Onna renewed their wedding vows, marking their 10 year anniversary as well.